University of Scranton Nursing Professor Wins Book of the Year Award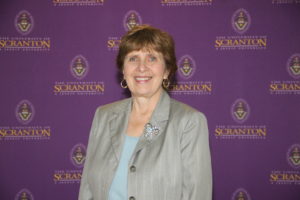 The second edition of "Nurses Making Policy: From Bedside to Boardroom," won second place in the History and Public Policy category of the 2019 American Journal of Nursing Book of the Year Awards.
The American Journal of Nursing Book of the Year Awards is an esteemed and prestigious competition in which the best in nursing publishing are chosen by a panel of judges who are experienced and well-established in the healthcare community. Awards are given for first, second, and third places across 20 categories. 2019 marked the 50th year of the awards.
The second edition of "Nurses Making Policy" explores the nurse's integral role in facilitating health policy change and advocating for the patient, both in the hospital and in the larger political system. The editors have donated all their royalties from both editions of the book to the Washington Fellowship Fund at the American Nurses Foundation, which is the philanthropic entity of American Nurses Association. The Washington Fellowships Fund is focused on getting nurses a seat at the highest-policy making tables and maximizing nurses' participation on Capitol Hill committees.
Dr. Zalon, who has been a member of Scranton's faculty since 1988, was inducted as an American Academy of Nursing Fellow in 2010 in part for her positive influence on health care policy and delivery. Her leadership legacy includes grassroots advocacy, progressive program design, execution and outcomes in state and national nursing organizations focused on establishing practice and education policy, and building research funding capacity.
Dr. Zalon has authored book chapters, as well as articles published in numerous scholarly journals and other professional publications. She has also made research and health policy presentations at the local, state, national and international levels. Her research has been funded by the National Institutes of Health.