David Sedaris Coming to Lackawanna County Library System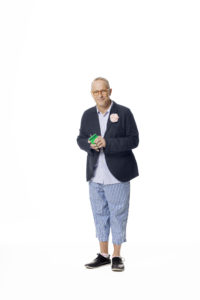 David Sedaris, whose personal essays and humorous social commentary have earned him recognition as one of America's greatest living humor writers, will be the speaker for the Lackawanna County Library System's 2020 American Masters Lecture, Monday, April 6 at 7 p.m. in the Scranton Cultural Center.
Free tickets for the event are available only at Lackawanna County libraries until Feb. 20, and from Feb. 21 on will be available at the libraries and online.
Sedaris is the author of 11 collections of essays, many of which appeared first in The New Yorker. The titles of his books alone suggest the wit to be found within:  "Barrel Fever", "Holi­days on Ice," "Naked," "Me Talk Pretty One Day," "Dress Your Family in Corduroy and Denim," "When You Are Engulfed in Flames," "Let's Explore Diabetes with Owls," and "Theft By Finding: Diaries (1977-2002)." He is also the author of "Squirrel Seeks Chipmunk: A Modest Bestiary," a collection of fables with illustrations by Ian Falconer.
His most recent collection of essays, "Calypso," published in 2018, was a New York Times best-seller, and a Washington Post Best Book of the Year. The audiobook of "Calypso" was nominated for a 2019 Grammy in the Best Spoken Word Album category.
In addition to articles and books, Sedaris has gained an audience through his commentaries on CBS Sunday Morning and his voice has become known from National Public Radio.
His sister, actress, author and comedian Amy Sedaris, was a speaker for the Library System's lecture series in 2014. Together they have written several plays under the name "The Talent Family". Most have been performed at La MaMa Experimental Theater Club in New York City.
His appearance in Scranton will be one stop on a marathon that will see the writer speaking in 40 different locations in a period of 40 days.
"We are extremely proud to be hosting David Sedaris during his tour of American cities and campuses," said Mary Garm, director of the Lackawanna County Library System. "Because we expect such a large turnout, we are starting ticket distribution in the System's libraries," she added. "That will give regular library patrons the first opportunity to obtain seats for the lecture."
"We will add online distribution of tickets on Feb. 21 so that his fans throughout the region can get a chance to hear him," she said.