2020 ATHENA Leadership Award Recipient Announced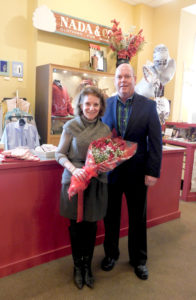 The Greater Scranton Chamber of Commerce is pleased to announce Nada Gilmartin, owner of Nada and Co.—a clothing and homegoods boutique on Capouse Ave. in Scranton—as the 2020 ATHENA Leadership Award recipient.
Nada embodies the character of the ATHENA Award, which honors an exceptional individual who has achieved excellence in their business or profession, has served the community in a meaningful way and has assisted women in their attainment of professional goals and leadership skills.
"Nada has proven to be an advocate for women in so many tangible ways. She supports women facing challenges, inspires others with her work ethic, and commits time and resources to numerous community organizations and needs – all while running a successful small business," says Bob Durkin, president and CEO of The Greater Scranton Chamber of Commerce. "She is a most deserving recipient of this prestigious award."
In addition to owning Nada & Co. for over 30 years, Nada is a founding member and executive board member for the Society for the Preservation of the Tripp Family Homestead, she serves on the executive board  for the Scranton Cultural Center, is a member of the Lackawanna County Arts and Culture, ACE Council,  and volunteers for the Ballet Theatre of Scranton. In addition, she has assisted with advancing the missions of organizations like Dress for Success, Komen Foundation and Outreach. She is also an advocate for the revitalization efforts of Downtown Scranton.
Nada will be honored at the Chamber's upcoming International Women's Day Luncheon on Mar. 6 at Marywood University.
The ATHENA Award was first presented in 1982 in Lansing, Michigan and has grown to include presentations to more than 5,000 individuals in hundreds of cities in the United States as well as in Canada, China, Russia and the United Kingdom. The award takes the form of a hand-cast bronze sculpture symbolizing the strength, courage and wisdom of the recipient.
The Chamber received more than 25 nominations from across the region. The judges – made up of previous ATHENA recipients, volunteers, and Chamber board members – had the difficult task of picking just one of these inspiring women.
The ATHENA Award® Program is nationally underwritten by General Motors and National City Bank. Local sponsorship is provided by Bank of America and Michael A. Barbetti, CPA.