Speakers Announced for Sixth Annual Empower Conference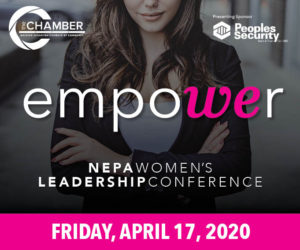 NASCAR Executive to Speak

The Greater Scranton Chamber of Commerce is excited to announce the sixth annual Empower Women's Leadership Conference will be held Friday, April 17 at Mohegan Sun Pocono, sponsored by Peoples Security Bank & Trust.
"Peoples Security Bank & Trust strongly believes in contributing its resources to make our community a better place to live and work," Thomas P. Tulaney, senior executive vice president, said. "As the presenting sponsor of the Empower conference, we are able to recognize and support the development of women in leadership roles throughout our local communities."
Each year the conference is presented by The Greater Scranton Chamber of Commerce, in conjunction with Greater Hazleton, Pittston, and Wilkes-Barre Chambers of Commerce, as well as Back Mountain, Northern Poconos, Schuylkill, and Wyoming County Chambers of Commerce, which are new supporters this year.
Mari Potis, director of membership and events for The Greater Scranton Chamber, is thrilled with the success and growth the conference has seen over the last five years. "It's inspiring to have the community rally around this event each year and to see women encouraging women to create positive changes here in our own backyard."
This year's conference—themed Embrace Ambition—has 13 different speakers lined up, including two keynote speakers.
Jill Gregory, executive vice president and chief marketing officer for NASCAR, is the keynote speaker during lunch, sponsored by PNC Bank. In this role, Ms. Gregory leads the marketing, media and communications functions for NASCAR. This includes brand and consumer marketing, driver and team marketing, content strategy as well as analytics and insights. In her first year as chief marketing officer, Gregory launched an effort to refresh and modernize the NASCAR brand, and in 2016 unveiled its first new brand identity since 1976.
Erin Gargan King, chief executive officer of Socialite Agency and digital persuasion expert, is the keynote speaker during breakfast, sponsored by Prudential.
The eleven additional speakers who will present at this year's conference are Scranton Mayor Paige Cognetti; Susan Unvarsky, vice president of U.S. customer service operations at Prudential; Amy Brayford, executive vice president, chief human resource officer and chief of staff to the president and chief executive officer at Geisinger; Jessica Miraglia, Esq., criminal defense attorney and court-appointed counsel in Luzerne County; Gina Yarrish, founder and chief executive officer of Yarcort; Dr. Jill Murray, executive vice president and chief innovation officer at Lackawanna College; Lisa Moher, north american head of distribution package engineering and graphics at Sanofi; Katie Beekman, president of Scranton Wilkes-Barre RailRiders; Tara Mugford Williams, president at Power Engineering; Leslie Santasiero, store manager of Lowe's; and Strother Gaines, business and personal coach at But I'm a Unicorn Dammit, LLC.
Since 2015, Empower has been the premier women's leadership event of Northeast PA. It's a daylong conference that highlights the ability all women have to create positive change in their communities and in their own lives – both professionally and personally – while recognizing the extraordinary power that exists when women come together to support each other.
For tickets and more information about this year's Empower, Women's Leadership Conference, visit www.scrantonchamber.com.