Northeast Title & Tag Celebrates New Office Grand Opening

This past Friday, October 11, Northeast Title & Tag, Inc. celebrated the grand opening of its 12th office in Bradford County. The day was filled with excitement and a feeling of accomplishment for the several month projects was finally completed. "Our Family Behind Yours…" is the mission of Northeast Title & Tag, Inc. and they fully intend to live that mission by supporting the local communities that surround their business.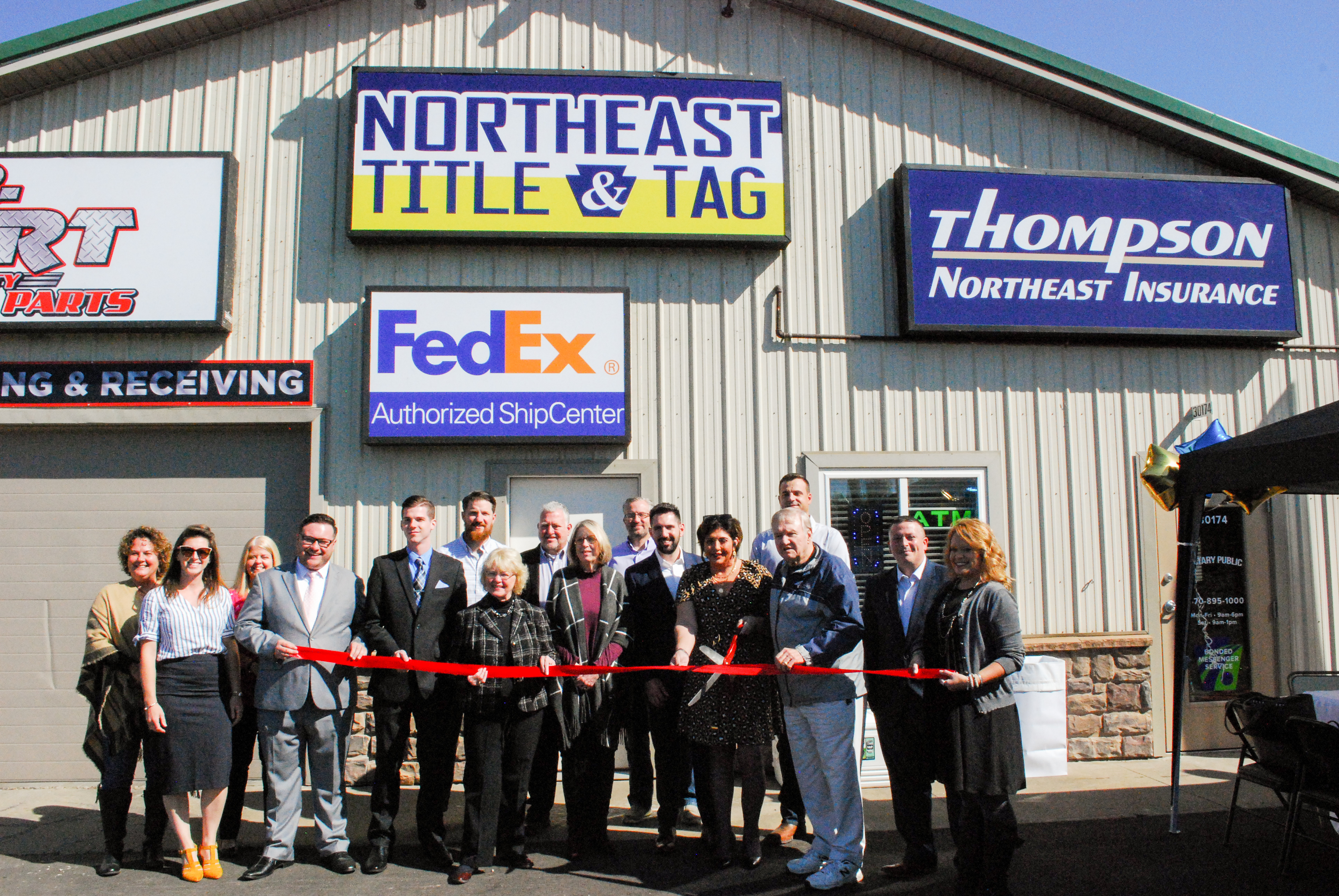 In attendance as seen in the ribbon-cutting photo include John Roy Thompson (Founder), Maria Thompson-Carter (CEO), Joseph T. Grasso (Vice President), Catherine Ohara (Vice President), Michael Aten (Chief Technology Officer), Ryan Buchanan (Junior Consultant/Marketing Manager), and Jen Greiger (Wysox Office Supervisor) were gathered with board members from the Central Bradford Chamber of Commerce, Chris Natalie from FNCB Bank, and State Representative Tina Pickett.
Northeast Title & Tag, Inc has 12 locations throughout 7 counties and is the largest, privately-owned title and tag agency in Pennsylvania.
As a PennDOT Authorized Service Center NETT offers insurance, motor vehicle registration, motor vehicle renewals, driver's license services, boat, ATV services, Apportioned (IRP) registration services, 24/7 Mobile Notary, Fedex, UPS, DHL and USPS shipping services.
Northeast Title & Tag, Inc has partnered with Thompson Northeast Insurance, LLC, DOT Compliance Services, LLC and Northeast Pack & Send in order to provide each customer complete one-stop-shop convenience.
This upcoming year marks the 50th Anniversary for Northeast Title & Tag, Inc. and is grateful to have had the opportunity to serve each community and look forward to serving for another 50 years. You may learn more about Northeast Title & Tag, Inc. by visiting their website at netitle.org or contact them by phone at 570-895-1000.
"We are so happy and grateful for the opportunity to expand operations to Bradford county and thank all of our customers for supporting us for 50 years. I would like to also personally thank all of our staff for their hard work and dedication because without their help we would not have been able to achieve this magnificent milestone." – Maria Thompson-Carter, CEO of Northeast Title & Tag, Inc.