Nominations now open for Mohegan Sun Arena's Fifth Annual "Salute to Service" Suite Ticket Promotion Honoring Local Military and First Responders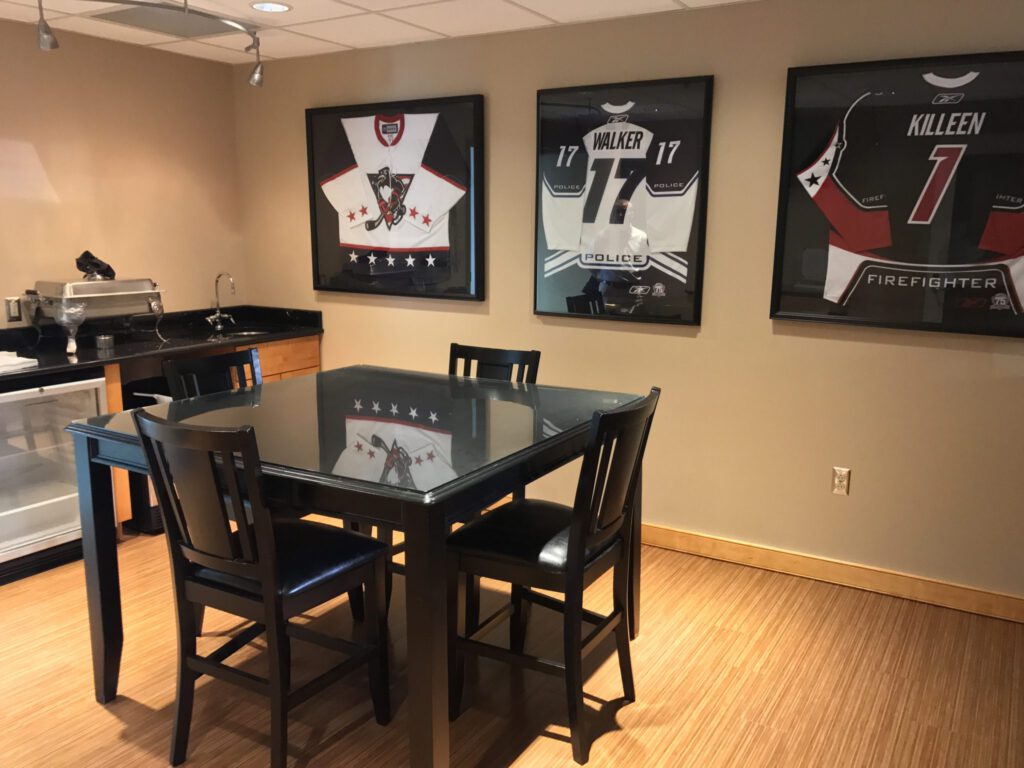 WILKES-BARRE – The SMG-managed Mohegan Sun Arena at Casey Plaza in Wilkes-Barre Twp., along with the Wilkes-Barre/Scranton Penguins, are once again proud to honor local military personnel and first responders throughout the upcoming season by donating the usage of an arena luxury suite for those that served their country and community. Over the past four seasons, Mohegan Sun Arena and the Wilkes-Barre/Scranton Penguins donated nearly 2,000 tickets as part of the "Salute to Service" Suite promotion. The venue's "Salute to Service" Suite is decorated in Penguins military and first responder jerseys, and each recipient is recognized during the game.
Nominations are now open for this promotion from the general public online at Mohegan Sun Arena's website at www.mohegansunarenapa.com or by clicking the link below.
https://www.surveymonkey.com/r/MSASalute2019
Recipients of the award will be chosen at random and each recipient will receive 12 tickets to the "Salute to Service" Suite for a Penguins game along with three VIP Parking passes and a complimentary snack package.
In addition, all active and retired military and first responders including police, firefighters and EMT's will continue to receive 25% off select concessions items at permanent SMG/SAVOR managed concessions stands by showing their ID at all Wilkes-Barre/Scranton Penguins games, as well as for concerts and family shows.
The Wilkes-Barre/Scranton Penguins are offering special ticket pricing for active military by showing their Military ID card at the NBT Bank Box Office at Mohegan Sun Arena. Active military can get Red Zone tickets for $23.25 and Gold or Blue Zone seats for just $13.25. Individual game tickets for the Wilkes-Barre/Scranton Penguins regular season are on sale now at the NBT Bank Box Office at Mohegan sun Arena, the Penguins Team Store, www.Ticketmaster.com or by calling (570) 208-7367.
Wilkes-Barre/Scranton season ticket packages, including full season memberships, 22-game, 12-game and Flexbook plans, are available by contacting the Penguins directly at (570) 208-7367.
Luxury suite rentals for most Mohegan Sun Arena events are available by calling the arena at (570) 970-3506.
Mohegan Sun Arena at Casey Plaza is owned by the Luzerne County Convention Center Authority, a government body appointed by Luzerne County. The arena is managed by SMG, the world leader in entertainment and sports facilities management with catering and concessions services provided by SAVOR… at Mohegan Sun Arena.
About SMG
Founded in 1977, SMG provides management services to 243 public assembly facilities including convention and exhibition centers, arenas, stadiums, theaters, performing arts centers, equestrian facilities, science centers and a variety of other venues. With facilities across the globe, SMG manages more than 19 million square feet of exhibition space and more than 1.5 million sports and entertainment seats. As the recognized global industry leader, SMG provides venue management, sales, marketing, event booking and programming, construction and design consulting, and pre-opening services for such landmark facilities as McCormick Place & Soldier Field in Chicago, Moscone Convention Center in San Francisco, Houston's NRG Park and the Mercedes-Benz Superdome in New Orleans. SMG also offers food and beverage operations through its concessions and catering companies, currently serving more than 140 accounts worldwide. For more information visit www.smgworld.com.