Clarks Summit Youth Represents Geisinger Janet Weis Children's Hospital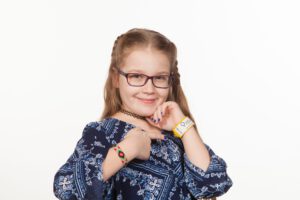 CLARKS SUMMIT – At 8 years of age, Saige LaCoe had burning stomach pains and bleeding when she went to the bathroom. She had testing with Geisinger Janet Weis Children's Hospital's pediatric gastroenterology specialists who determined she had Crohn's disease.
At about the same time, Saige began having horrible headaches that caused her to vomit. An MRI revealed that Saige had Chiari malformation, where brain tissue extends into the spinal cord.
Following surgery to correct the malformation and ongoing infusion therapy to relieve the Crohn's, Saige is now doing well and feeling healthy.
Donations to Geisinger Janet Weis Children's Hospital have provided funding for the Child Life Department, which helps provide activities for kids like Saige who routinely visit the gastroenterology clinic for infusion therapy.
Make a donation online at geisinger.org/cmn or by calling 1-800-322-5437.
Join us a Knoebels Amusement Resort on Memorial Day Weekend, May 25 and 26, for Celebrating Miracles Weekend and learn more about our 2019 Miracle Kids on June 3 on WYOU/WBRE during our Making Miracles for Kids Telethon.
Sign up for Celebrating Miracles Weekend events at go.geisinger.org/cmnevents.
For more information on Saige or any of the 2019 Miracle Kids or for more information about upcoming events, please contact Mike McMullen at the above contact information.