Golden Introduces World's First Three-Position Power Lift Recliner with Twilight Technology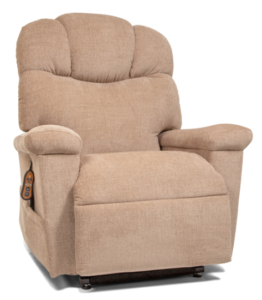 Golden Technologies recently announced that its newest power lift recliner, the Orion, is not only the world's first three-position lift chair featuring the unique Twilight cradle technology, it is already a retail success.
"There is nothing else like our patent-pending Twilight technology and the Orion's dual-motor system combined with this incredible seating technology allows for a deeper recline to achieve rejuvenating positions no other three-position chair on the market offers," said Rich Golden, CEO of Golden Technologies. "Customers are looking for the best in comfort seating that provides many options at an affordable price and our retailers want to provide an innovative product that has a vast market appeal. So our expansion of the Twilight line of power lift recliners is a natural progression and fills that need for everyone," he added.
The PR405 Orion with Twilight technology was unveiled at Medtrade, the home medical equipment industry's largest trade show, this past October in Atlanta, GA and was received with overwhelming enthusiasm. "We believe that retailers will find exactly what they are looking for in the Orion," said C.J. Copley, Golden's Executive Vice President of Sales & Marketing. "Adding Twilight technology to the Orion gives retailers a new dimension of comfort among three-position lift chairs," he added.
In addition to the Orion's desirable comfort seating features, it will be stocked in five luxurious fabrics for a modern, updated look. The stocked upgrade options include two Brisa breathable fabrics that feature a new lifetime warranty. Production is ramping up this week first with Bittersweet, the most popular color ordered at Medtrade. Over the coming weeks, other fabrics will be added to the quick ship program.
Consumers are able to achieve new angles for TV watching and lounge positions as well as experience a rejuvenating position to comfort the body and ease the spirit.
The chairs are stylish and are hand-crafted in Old Forge, Pennsylvania, by a team of skilled craftsmen. "Golden chairs are made by Americans and we are very proud of our history and ability to provide customers with advanced seating options unlike any other manufacturer," said Golden.
Visit www.goldentech.com for more information.