Peculiar Slurp Shop: A First for Scranton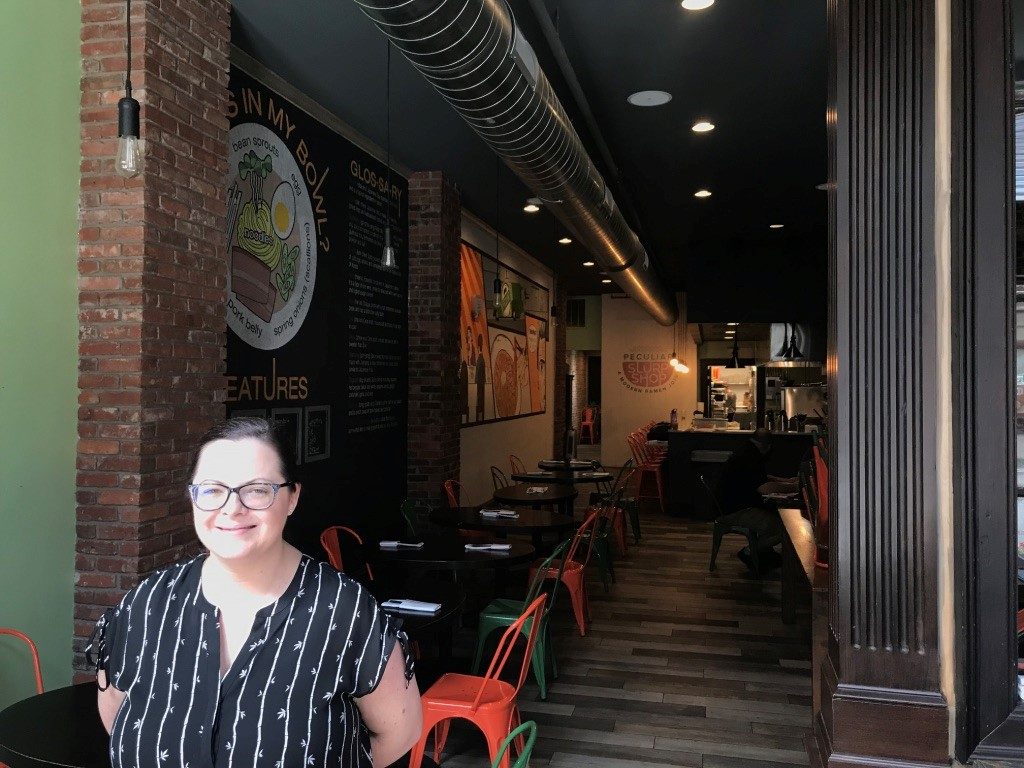 By Kyle Bravin
University of Scranton
Peculiar Slurp Shop throws its own twist on dishes to make them unique, according to co-owner Miranda Philbin.
"We don't call ourselves authentic," she said. "We take well-known dishes and throw our own twist on them, hence the 'peculiar' name. This is what we've done with any food we've served in the past."
A family-owned restaurant in downtown Scranton, Peculiar Slurp Shop is the first ramen shop in Northeast Pennsylvania. Their nearest competitor is located in Easton, although they don't focus on their competitors. The staff's goal is to have fun creating their own dishes and putting their heart into their business.
"We put our heart and soul into it, so it really is a privilege and a blessing to be able to open our doors and offer what we enjoy doing by putting it all out there for people," Ms. Philbin said. "When we see that people are really enjoying what we are offering it makes us very happy."
Ms. Philbin co-owns Peculiar Slurp Shop with her husband, Gene, who is also the chef. The two have been working in the restaurant business since 2012 and first started with pop-up shops that eventually led to opening a food truck. After their food truck experiment, they both decided they wanted to open a storefront restaurant.
Peculiar Slurp Shop's most popular dish is the Pork Belly Ramen, which consists of Gochujang roasted chashu, pork bone/soy/ginger broth, poached egg, radish, sprouts, scallions and noodles.
Ms. Philbin said that Peculiar Slurp Shop takes pride in the time they spend crafting each dish, for example, the broths they serve are simmered for 36 hours with bones and the noodles are guaranteed fresh.
"Everything is made with love," she said. "Whenever you come in and enjoy a bowl of ramen the service is very fast because everything has already been done. All of the hard work, all of the prep time has been done so it is just assembling the bowl and eating."
Peculiar Slurp Shop is still in its infancy stages and plans to expand. Being the first noodle shop in the Scranton area, they are creating a whole new outlook on ramen noodles that people didn't previously know about.
"Stay tuned as far as future growth goes, because we don't have any immediate plans to open another spot,  but there are some plans rolling around down the line so this isn't the last you've heard of us," Ms. Philbin said.
This article was written as part of a collaborative effort between Dr. Kim Pavlick's COMM 224 Newswriting class at the University of Scranton and the Chamber's Communications Department.