Geisinger Wyoming Valley Expands Cancer-Fighting Capabilities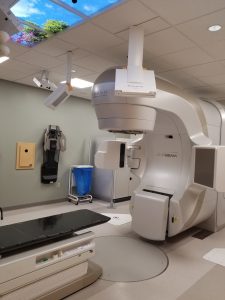 WILKES-BARRE, Pa. –  The Henry Cancer Center at Geisinger Wyoming Valley now offers the TrueBeam radiotherapy and radiosurgery treatment system – a fast, non-invasive and precise image-guided radiotherapy to treat complex cancers in fewer sessions.
Varian TrueBeam linear accelerator with BrainLAB's Novalis provides high-energy radiation, which enables treatment with high doses of radiation while minimizing doses to surrounding, normal tissues.
"Caring for cancer patients and their families is complex and requires a comprehensive approach," said Dr. Rajiv P. Panikkar, chair of the Geisinger Cancer Institute. "This $4.5 million investment improves patients' experiences and outcomes. Our team can tackle complex cancers in fewer treatments and even deliver repeat radiation in certain situations."
This cutting-edge combination is the only platform of its kind in Northeastern Pennsylvania.
The Truebeam can generate high-quality, 3D images of the tumor and the surrounding anatomy. Combined with a 6D robotic couch system, Truebeam adjusts its targets as natural breathing moves the tumor. The TrueBeam can perform stereotactic radiosurgery, considered the most precise method of delivering a high dose of radiation into the body.
"Tumors are treated with pinpoint precision — no surgery, no incisions and no post-surgical healing. Treatments that once took 10 to 30 minutes can now be completed in less than 2 minutes," said Dr. Anand Mahadevan, radiation oncologist and chair of Radiation at Geisinger. "We're excited to add this cancer-fighting technology to help patients here in Northeastern Pennsylvania."
For more information, please call 570-808-7075.
About Geisinger
Geisinger is an integrated health services organization widely recognized for its innovative use of the electronic health record and the development of innovative care delivery models such as ProvenHealth Navigator®, ProvenCare® and ProvenExperience®. As one of the nation's largest health service organizations, Geisinger serves more than 3 million residents throughout 45 counties in central, south-central and northeast Pennsylvania, and also in southern New Jersey at AtlantiCare, a Malcolm Baldrige National Quality Award recipient. In 2017, the Geisinger Commonwealth School of Medicine and Geisinger Jersey Shore Hospital became the newest members of the Geisinger Family. The physician-led system is comprised of approximately 30,000 employees, including nearly 1,600 employed physicians, 13 hospital campuses, two research centers, and a 583,000-member health plan, all of which leverage an estimated $12.7 billion positive impact on the Pennsylvania and New Jersey economies. Geisinger has repeatedly garnered national accolades for integration, quality and service. In addition to fulfilling its patient care mission, Geisinger has a long-standing commitment to medical education, research and community service. For more information, visit www.geisinger.org, or connect with us on Facebook, Instagram, LinkedIn and Twitter.