Masters of the Telecaster To Perform at Scranton Cultural Center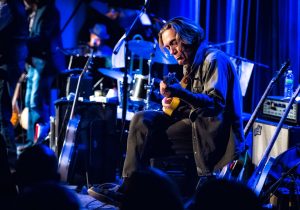 WHO:  The Scranton Cultural Center at the Masonic Temple
WHAT: Masters of the Telecaster featuring G.E. Smith, Jim Weider and Tom Principato
WHEN: Friday, September 21 – 8:00 p.m., Doors at 7:00 p.m.
WHERE: Grand Ballroom –  Scranton Cultural Center at the Masonic Temple
                  420 North Washington Avenue Scranton, PA 18503
TICKET PRICE: $35 Advance / $45 Day of Show
Blazing riffs, hot licks and jaw-dropping guitar mastery will be on full display Friday, Sept. 21, when "Masters of the Telecaster," featuring three of the world's preeminent blues-rock guitarists, take the stage at the Scranton Cultural Center at the Masonic Temple on September 21 in its Grand Ballroom.
The trio features G.E. Smith, a native of Northeastern Pennsylvania, who is best known as the leader of the Saturday Night Live Band from 1985-1995. Joining Smith will be legendary guitar masters Jim Weider and Tom Principato.
The show will feature a wide array of rock, blues, rhythm & blues and roots music, while celebrating the Fender Telecaster, the first commercially successful solid-body electric guitar sold in America. The iconic "Tellie," as it is known among guitar players, debuted as the Broadcaster in 1950 and was the first mass-produced, affordable solid-body electric guitar, quickly becoming a staple in every rock band in America and beyond. With very few modifications from its original design, it has been in production continuously since its incarnation, and has been used in genres ranging from rock, country and blues to reggae, pop, folk, soul, rhythm and blues, jazz, punk and heavy metal. G.E. Smith's mother bought him a Telecaster for his 11th birthday in 1952. He still has the guitar and marvels, "There's no sound that I can't find in it."
Born George Edward Haddad in Scranton, Smith grew up in Stroudsburg and got his big break as guitar player for Hall & Oates where he spent six years with the chart-topping duo. Considered rock royalty and one of the best all-around guitar players in the world, he is perhaps best known for his decade-long stint as SNL bandleader from 1985 to 1995, for which he won an Emmy Award. In the midst of his SNL tenure, Smith toured with Bob Dylan during the "Neverending Tour" from 1988 until October 1990. He has been the musical director for many special events, including the 1988 Emmy Awards, 1993 Rhythm and Blues Foundation Awards, Bob Dylan's 30th Anniversary Concert at Madison Square Garden, and the Rock and Roll Hall of Fame Concert in Cleveland. He has played on albums by many artists, including Mick Jagger and David Bowie, and helped compose the "Wayne's World" theme song. From 2010-2013, Smith performed on Roger Waters' "The Wall Live" tour.
Jim Weider, best known for his roles in The Band, The Levon Helm Band and The Weight Band, is a master of classic telecaster and traditional blues slide guitar techniques. A Woodstock, N.Y., native, he is one of a select group of musicians to have an endorsement from Fender, and has built an international reputation among fellow musicians worldwide. He has performed with Bob Dylan, Hot Tuna, Keith Richards, Los Lobos, Dr. John, Paul Butterfield and many more, and fronts ProJECT PERCoLAToR.
Washington, D.C.-based blues king and powerhouse front man Tom Principato has been setting the telecaster on fire across the globe with some of the finest performers for more than 25 years. With 20 albums under his belt, he's had endorsement deals with Fender, Seymour Duncan pickups and Roger Mayer guitar effects pedals.
"Masters of the Telecaster" is certain to be a magical and historic night of guitar mastery performed by three of the world's greatest exponents of the Telecaster. The show will include songs by Roy Buchanan, Little Richard, Bo Diddley, Sam Cooke and many more. They will be joined by Randy Ciarante on drums and vocals, and Lincoln Schleife on bass and vocals to complete this most righteous and rockin' band. Don't miss "Masters of the Telecaster"!
"Masters of the Telecaster" is sponsored by United Gilsonite Laboratories, Medico Industries and LT Verrastro.  It is supported by Lackawanna County and the PA Council on the Arts.
The show will take place in the SCC's Grand Ballroom and begin at 8:00 p.m. with the doors opening at 7:00 p.m.  There will be a cash bar and light fare for purchase.  Tickets are $35 in advance and $45 on the day of the show.  They can be purchased at the Fidelity Bank Box Office at the SCC in person or by calling (570) 344-1111, or via Ticketmaster. For additional information and a full schedule of events, visit SCCMT.org.
The Scranton Cultural Center at the Masonic Temple's 2018-19 Season is sponsored by United Gilsonite Laboratories and LT Verrastro.  It is supported by the Pennsylvania Council on the Arts, and the Lackawanna County Office of Arts and Culture, and Commissioners Patrick M. O'Malley, Jerry Notarianni and Laureen A. Cummings.  A special thank you to its media partners:  Allied Services, Bold Gold Media, Citizens' Voice, Electric City, Entercom Communications, Lamar Advertising, MAC Signs, The Times-Tribune, Times Shamrock Communications and Eyewitness News – WBRE/WYOU – pahomepage.com.