Scranton Tomorrow Launches Beautification Efforts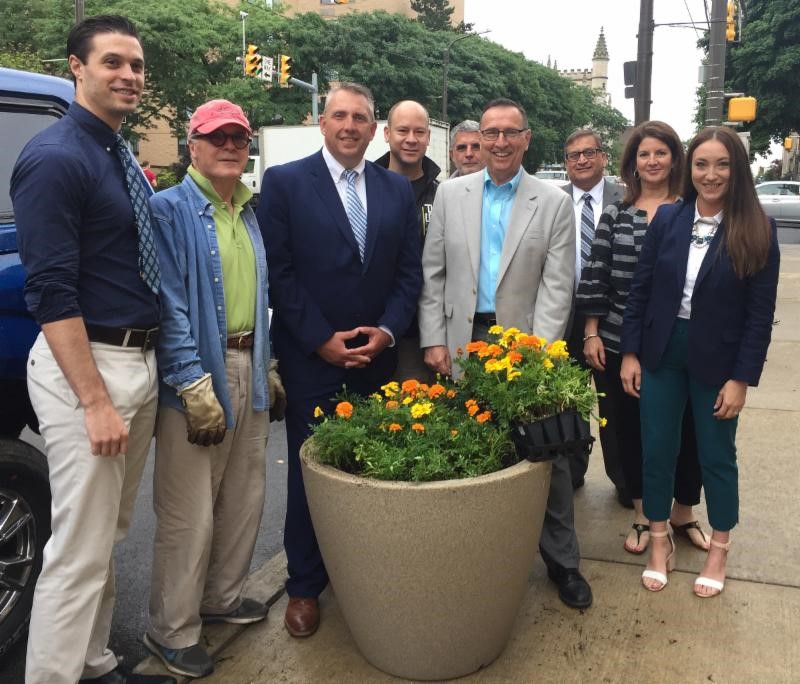 From left; Stephen Brush, constituent services specialist for Senator John P. Blake; Michael Gilmartin, board member, Scranton Tomorrow; Larry West, regional director for Senator John P. Blake; Joshua Mast, board president, Scranton Tomorrow; Mayor of Scranton William L. Courtright; Steve Ward, master gardener coordinator, Penn State Master Gardeners in Lackawanna County; Chris Casciano, economic development specialist, City of Scranton; Leslie Collins, executive director, Scranton Tomorrow; and Elizabeth Colacicco, project coordinator, Scranton Tomorrow
Visitors to Downtown Scranton can expect to see more green throughout the Business District thanks to the efforts of Scranton Tomorrow volunteers and a host of community partners.
A planting in front of City Hall at 340 N. Washington Avenue marked the first in a series of beautification efforts now underway. Project partners include the Commonwealth of Pennsylvania, Lackawanna County Department of Economic and Community Development (LCDECD), the City of Scranton, and Penn State Master Gardeners in Lackawanna County.
By the end of the year, 64 new planters will be installed throughout the downtown. For updates on this project and more, visit scrantontomorrow.org and follow Scranton Tomorrow on Facebook.
About Scranton Tomorrow
Scranton Tomorrow is a 501 c(3) nonprofit, nonpartisan community and economic development organization working to establish Scranton as the premier urban center of Northeastern Pennsylvania. Volunteers and supporters include business leaders, public officials, entrepreneurs, property owners, developers, educators, artists and community partners – all united in a love for the City of Scranton and a commitment to reach its greatest potential.