Keystone Community Resources Hosts Celebration of Choice Event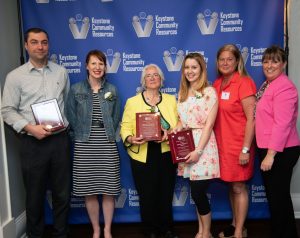 Pictured left: Shaun Pasternak, Director of Customer Service and Planning, Process Technologies and Packaging, LLC and Krissy Dougherty, R & D Lab Director, Process Technologies & Packaging; Loretta Dragon, Oak Leaf Therapeutic Horsemanship Center, Owner; Kavina Oakley, Manager of Endless Mountains Events; Stephanie Chunca, KCR Senior Coordinator of Community Employment Services and Laura Brown-Yadlosky, President and CEO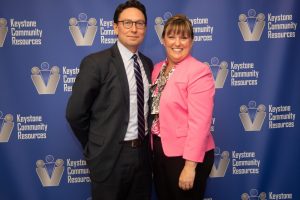 Pictured Left: Jeremy Yale, Administrator of Lackawanna- Susquehanna Counties BH/ID/EI Programs and Laura Brown-Yadlosky, President and CEO
Clarks Summit, Pa, Keystone Community Resources, (KCR) recently held a Celebration of Choice Award dinner at Constantino's Catering & Events in Clarks Summit.  Jeremy Yale was the Keynote speaker at the ceremony.  Jeremy is a former employee of Keystone Community Resources and a very strong advocate for Human Services in his role as Administrator of Lackawanna- Susquehanna Counties. KCR appreciates and respects his dedication and support to individuals with autism and developmental disabilities. KCR honored KCR Vocational Program Participants with 5 year increments up to 25 years of service and Achievement Awards for Individuals with development disabilities who learned a new skill or went out into the workforce with KCR Small Group Employment Program.  KCR Employees celebrating 5 year increments up to 25 years of Service to individuals with intellectual disabilities and autism were honored as well.
KCR honored five local businesses for their partnership and commitment to KCR Employment Programs.  These businesses support KCR's mission, by providing KCR Clients with autism and developmental disabilities diverse opportunities to work in vocational programs, businesses and in the local community, allowing them to lead fulfilling lives.  KCR has been partnering with businesses to assist with staffing needs for over 20 years. The business honored this year were Chocolates by Leopold, Process Technologies & Packaging, Oak Leaf Therapeutic Horsemanship Center, Jacobson Hat Co., Inc. and Endless Mountain Events. KCR provides qualified employees with disabilities in a variety of positions, Supported Employment, Small Group Employment and Job Coaching.
Keystone Community Resources Mission Statement
Our mission is to provide people with developmental disabilities diverse opportunities to lead fulfilling lives. Keystone Community Resources it is a company that provides community based services for individuals with intellectual and developmental disabilities. It has 60 group homes; seven day programs; a bakery, Keystone Konfections, in Tunkhannock; a coffee business, Keystone Koffee, in Wilkes-Barre and Artworks Gallery in Scranton. These locations are working vocational businesses that allow people with disabilities to learn life and work skills, with the proceeds circling back to benefit them.